Winterwonderland Vienna
The light spectacle in the Kronprinzengarten at Schönbrunn Palace
15.11.23 to 7.1.24 | 17:00 – 22:00
Last admission at 21:00
Closed on 24.12.23
Winterwonderland Vienna
Magical winter fairytale in Schönbrunn
This fairytale spectacle transports you to a magical winter wonderland at Schönbrunn Palace. Winter Wonderland offers illuminated motifs, interactive elements and an impressive projection show for all ages. A magical tunnel of light leads through Schönbrunn's magic, showing the hunting garden, glowing bees, romantic places of Sissi and Franz as well as the imperial ballroom with the sounds of the waltz. On show for the first time in the Crown Prince Garden at Schönbrunn Palace. A magical winter experience awaits you!
Winterwonderland Vienna
Magical HighLIGHTS await you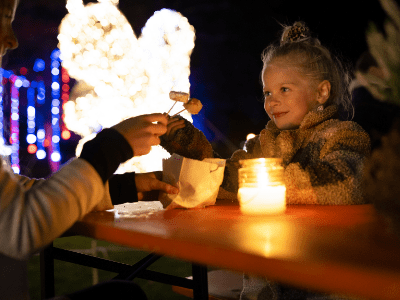 Indulgent
gastronomy
The catering area invites you to linger and warm up. Enjoy a hot drink and tasty snacks.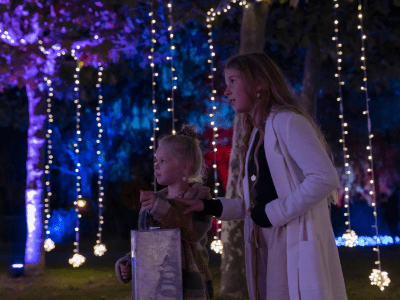 Right next to the
Christmas market
Our park is located in the immediate vicinity of the world-famous Christmas market at Schönbrunn Palace.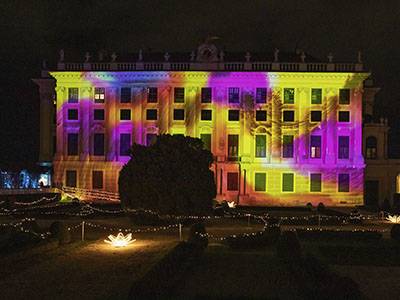 Magical
video mapping
Be enchanted by a newly created mapping show on the façade of Schönbrunn Palace.
Winterwonderland Vienna
Tickets
Adults € 18
Students/Retirees* € 13
Children** € 9
Family Ticket*** € 7,98 p.P.
* Handicapped persons, pupils, students, apprentices and senior citizens aged 65 and over
** Children from 2 to 15 years
*** max. 2 adults with up to 3 children
Winterwonderland Vienna
Frequently Asked Questions (FAQ)
Energy-saving measures
In these times, it is an urgent necessity to save energy for several reasons. And of course there is no question that first and foremost the basic supply of the population must be guaranteed. From our point of view, the activities around LUMAGICA are also subordinate to this, because we are aware of the current situation in the energy sector. That is why we have taken all possible measures from the very beginning to ensure the economical use of energy for light parks.
Thanks to the exclusive use of LED lighting, it is possible for us to realise light parks with extraordinarily low energy consumption. The total electricity consumption for the lighting and infrastructure of a LUMAGICA park of lights over a period of six weeks amounts to around 14,000 kWh. This corresponds to the average annual consumption of only 4.8 four-person households.
Health & Safety
The health of visitors and employees is our top priority.
All regulations in force at the time of the event will of course be communicated and adhered to.
Opening hours & Admission
Winter Wonderland Vienna opens on
15.11.2023 – 07.01.2024
(Winter Wonderland is closed on 24.12.2023.)
Admission takes place every 30 minutes, see timeslots. Your stay in the park is not linked to the admission time. You can enjoy Winterwonderland for as long as you like.
Last entry is at 21:30. The park closes at 22:00.
Where can I get tickets?
Tickets can be purchased ONLINE or at the box office on site.
Is there a box office?
Yes, but it is recommended to buy tickets ONLINE.
Open from 4.30 pm to 9.30 pm
Are there discounted tickets?
Discounts apply for senior citizens aged 65 and over, school pupils, students and people with disabilities (please bring proof). Accompanying persons of people with disabilities (provided they have a "B" or "H" on their ID) are admitted free of charge and do not require their own ticket.
Children aged 0-2 do not require a ticket and are admitted free of charge.
There is a children's ticket for children up to the age of 14
Children aged 6-14 are entitled to the discounted ticket.
From 20 persons you receive a -20% discount. For this, please contact b2b@oeticket.com
Day-bound tickets / time slots
Our tickets are available for purchase for a specific day and time slot.
Please come to the day and time slot you have chosen.
This will help to balance out the crowds.
Reservations
Reservations are not possible.
Can I cancel my ticket?
Rebookings are excluded. Cancellations are only possible if you have taken out ticket insurance at the time of purchase.
I have lost something in the park. What can I do?
Contact the box office directly or send us an e-mail afterwards to office@stargarage.at
What happens if LUMAGICA is cancelled?
Tickets already purchased for Winterwonderland 2023/2024 remain valid for 2024/2025. As a special thank you for your trust, you will receive an upgrade and can use your tickets from 2023 as FlexTickets next year!
The FlexTicket offers the opportunity to visit Winterwonderland once on any opening day and in any time slot you wish. With a FlexTicket, you are therefore not bound to a date and a time slot.
Weather and clothing
LUMAGICA is an outdoor event and takes place in all weathers, including rain.
Tickets cannot be returned due to bad weather.
In any case, we recommend weatherproof clothing and sturdy shoes.
Are dogs allowed?
No, dogs are not allowed to enter the entire grounds of Schönbrunn Palace. (except for necessary assistance dogs)
Gastronomic offer
There is a food and drink stand in the park at the end of the circular route.
May I take photos?
You are cordially invited to photograph our light displays. We would be delighted if you captured the special atmosphere of the park of lights and shared your impressions with us on social media under #winterwonderlandschönbrunn.
Unfortunately, it is not possible to film the area with a drone. There is no flight permit for this.
Group tickets
From 20 people you will receive a -20% discount on the tickets. For this you can contact b2b@oeticket.com directly.
Toilets
The toilets are located outside the park opposite the box office.
Accessibility
The park is accessible for wheelchairs and baby carriages.
Winterwonderland Vienna
Experience LUMAGICA and let yourself be enchanted
With the LUMAGICA parks of light, the magic of true light experiences meets the mysticism of unusual places: LUMAGICA creates moments full of magical surprises.