LUMAGICA Innsbruck
The magical light park in the Hofgarten
18.11.23 to 28.01.24 – 17:00 to 21:00
Last admission at 19:30
Closed 24.12.23
LUMAGICA Innsbruck
A magical journey through time
For the fourth time in a row, LUMAGICA opens its doors in the Hofgarten. This year, we will take you on an enchanting "journey through time" that shines in the darkness and enchants your senses.
Every step along the more than one-kilometre-long circular path brings forth a new, fascinating light show unlike anything you've ever experienced before. Amidst abstract elements and interactive light installations, we offer you countless opportunities to linger, marvel and participate. Each scene is a work of art that comes to life in the darkness to give you unforgettable moments.
For the first time, we have introduced a visitor slot from 5pm. This way we can welcome even more light lovers to our luminous world.
Welcome to LUMAGICA Innsbruck – a glamorous journey through time!
LUMAGICA Innsbruck
Magical highlights await you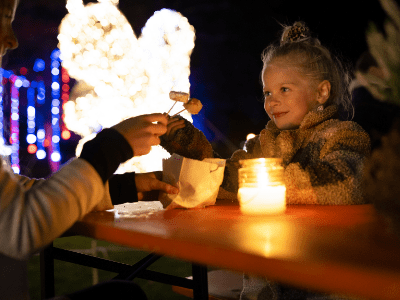 Indulging gastronomy
The gastronomy invites you to linger and warm up. Enjoy a hot drink and good food.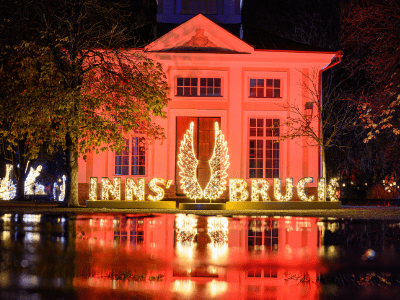 Historic park
Innsbruck's Hofgarten on the edge of the old town is the ideal place for a stroll in a luminous setting.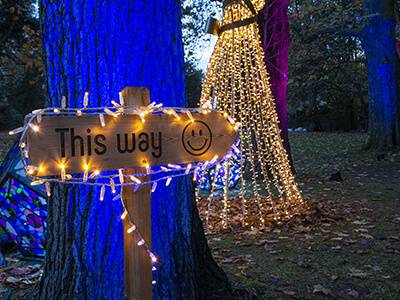 Magical laser projections
Be enchanted by a newly created laser projection show this year.
LUMAGICA Innsbruck
Time slot tickets
Please note that we charge a surcharge of 1 Euro at the box office
Monday till Thursday
(public holidays excluded)
Adults € 17
Reduced* € 15
Children** € 9
* Handicapped persons, pupils, students, apprentices and senior citizens from the age of 65.
** Children up to 14 years
Friday till Saturday
(incl. public holidays & holidays)
Adults € 19
Reduced* € 17
Children** € 11
* Handicapped persons, pupils, students, apprentices and senior citizens from the age of 65.
** Children up to 14 years
LUMAGICA Innsbruck
Tickets without time constraint
Gift Flex Ticket
Any day, not time slot bound
Adults € 23
Children* € 15
** Children up to 14 years
Combiticket
LUMAGICA Innsbruck and Swarovski Crystal Worlds
Two unforgettable experiences with just one ticket
The combiticket entitles you to one admission to LUMAGICA Innsbruck and the Swarovski Crystal Worlds during the promotional period from 18.11.2023 to 28.01.2024 incl. return journey on the Swarovski Crystal Worlds shuttle bus.
This ticket gives you direct access to LUMAGICA Innsbruck at the selected time. You can exchange the ticket for a visit to the Swarovski Crystal Worlds at the ticket office in Wattens (flexible admission without time commitment).
Combiticket Swarovski Adult€ 34,99
Combiticket Swarovski Children* € 14,99
* 7 up to and including 15 years
LUMAGICA Innsbruck
Location & Accessibility
The Hofgarten is located in the heart of Innsbruck and therefore enjoys very good accessibility.
Arrival by public transport
The Innsbruck Congress/Hofburg bus stop is directly in front of the entrance to the park.
Arrival by car
Parking spaces are available for a fee in the multi-storey car park on Rennweg.
Arrival by foot
Only 350m away from the Golden Roof, opposite the Hofburg, you will find the Hofgarten Innsbruck.
LUMAGICA light park
Experience LUMAGICA and let yourself be enchanted
With the LUMAGICA light parks, the magic of true light experiences meets the mystique of unusual places: It is moments full of fairytale surprises that LUMAGICA brings forth.